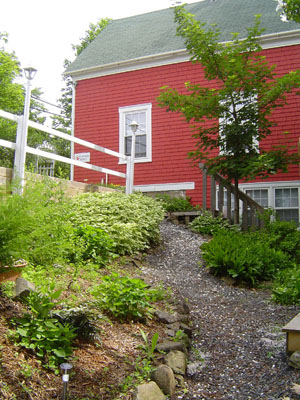 Welcome to the Evening Sail B&B... A unique bed and breakfast located in the heart of Pictou, Nova Scotia, offering a genuine, down home maritime experience and the chance to do B&B Your Way.
 B&B guests are an independent and adventurous lot, with a wide variety of interests and touring preferences. Some like to travel with a plan…carefully laid out and meticulously organized… while others prefer a more "seat of the pants" approach. Some enjoy the busy chatter of newly made friends sharing travel stories over breakfast and some are not morning people at all, but everyone wants a clean, comfortable place to lay their heads at the end of the day. In recognition of this, we offer two different choices for your stay. …Traditional Bed and Breakfast or "Just the Bed, Never Mind the Breakfast" pricing.
 The rooms at the Evening Sail are as individual as our guests, so we've tried to have something for every taste and budget! Some rooms are small and cozy, some are airy and romantic and some are perfect for families or friends travelling together…but each has a private bath (with lots of fluffy towels) and a really comfortable bed, as well as wi-fi, cable tv and a mini-fridge …some even have a full kitchen and most have balconies or garden decks!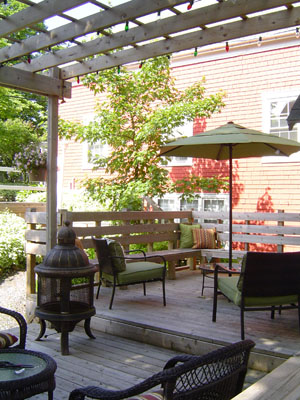 They say that breakfast is the most important meal of the day (we know that most people have traditionally come to expect a really special breakfast from their favourite B&B) , but not everyone has the same idea of just what constitutes "special". Have no fear…big breakfast eaters, light grazers, healthy nibblers and even people who don't like breakfast at all, can easily choose an option that suits them best when it comes to the right way to start their day.
The Evening Sail is located in the historic harbour town of Pictou, Nova Scotia and is a great stopover on your way from PEI to Cape Breton (and vice versa!). We are a short stroll to the downtown waterfront area with the Hector Heritage Quay, the Northumberland Fisheries Museum, the deCoste Centre and the one-of-a-kind Lobster Hatchery, as well as shops and eateries. The ferry to Prince Edward Island is less than 10 minutes away by car.